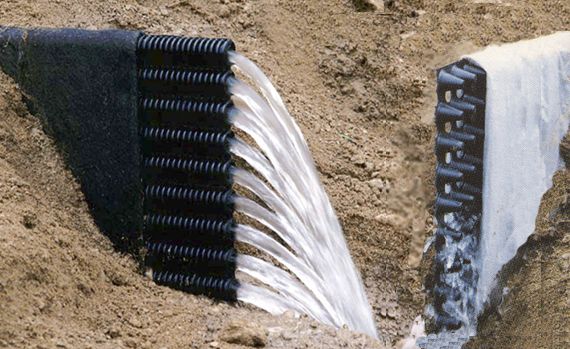 Recently, the Global Sport Kft. has built a relationship with Varicore Technologies Inc. (USA), which has been manufacturing and installing the Multi-Flow drainage system in the United States under its own patent for 30 years. Globál Sport Kft. has started the distribution of the product in Hungary within the framework of an exclusive contract and some EU country.
This product of Varicore Technologies Inc. is a fast-acting, short-lived, easy and economical to install, comprehensive groundwater treatment system with high-performance and has a unique design, robust construction, safe operation and guarantees a long service life. With its rich selection of fittings, it can be easily connected to other pipes used in civil engineering.
So what are the advantages of the Multi-Flow drainage system compared to the competing drainage products on the European market?
its material is flexible, it is also suitable for forming narrow arches;
the system has a wide range of profiles, easy to connect;
easy and quick to install - horizontally without drains or vertically, with a drainage only 10 cm width;
the installation period, the energy used and the cost are thus significantly lower than those of other competing products, so the return is expected sooner;
the material of the product, so the whole system is very strong, it can withstand loads well;
compatible with BMP installation techniques(BMP is a method used to prevent or control the discharge of rainwater and the release of pollutants into local water resources.);
the efficiency in water collection and drainage are outstanding due to the large surface area of the system;
can be characterized by a long service life;
due to the need for small machine and live work, it is also an excellent choice for fitting or working in hard-to-reach places.
In what areas can the MULTI-FLOW drainage system be a useful solution?
construction of desiccant systems on sports fields,
recreational or in residential areas,
agricultural usage, horticulture, livestock farms,
paved road surfaces, and
drainage under railway tracks,
construction sites,
drainage of waste water in mines and leach pile settings
with LDVS system, developing ventilation and monitoring systems under geomembrane-lined water reservoirs and storage lagoons.
WIDE RANGE OF USE - INNOVATIVE SOLUTION
Our company also provides free technical and planning assistance, and on-site expert advisory. For more information, visit our dedicated product page: multi-flow.eu